By Kate Jones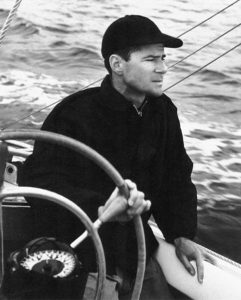 Cornelius "Glit" Shields, Jr., died peacefully in his Larchmont, NY home, on December 19, 2018, the day after his 85th birthday. His father, Cornelius Shields, Sr., started the International One-Design and the Shields classes. Brought up in a well-known sailing family, Glit Shields was on the water at the age of 9 in the Larchmont Junior sailing program. He was a life member of the Larchmont Yacht Club. He enjoyed sailing with his father and his uncle, Paul Shields, and he worked with them, too, becoming a partner in their Wall Street investment firm, Shields and Company.
Glit Shields became a prominent skipper, and the one to watch on the racecourse, on both the IOD and the Shields. He was also the skipper of the America's Cup defense candidate, Columbia, in 1962. Like his father, he won the North American Yacht Racing Association top prize, the Mallory Cup.
Peter Rugg, a Fishers Island champion, worked 10 feet from Shields at the investment firm one summer in college in the 1960s and says, "I did get a chance to sail the IOD with him once. We won that day. Glit and Carol welcomed me into their home in Larchmont on several occasions. He was a man of many talents and played a range of musical instruments from violin to trumpet. The world and the IOD Class will miss Cornelius Shields, Jr., a great sailor and consummate gentleman."
David Rockefeller, Jr., a Northeast Harbor champion, also sailed with Shields and says, "I met Glit Shields back then (in the '60s) he was part of the team in Nefertiti. I also sailed against him in the Interclub Frostbite at Larchmont Yacht Club. He had such a wonderful spirit, soft spoken, and almost fierce in his silence and determination as a sailor."
For more on Glit Shields, read Danielle Lawson's 2011 story, The Shields, Founding Family of the Internationals.
This Eight Bells: Cornelius Shields, Jr. obituary appeared in Sailing Scuttlebutt, incorporating a 2013 interview.
And here is a great video on the IODs and Shields classes narrated by Glit Shields.