By Rick Thompson
The long-standing "spring opener" for International One-Design Class sailors is Bermuda International Invitational Regatta, hosted by the Royal Bermuda Yacht Club and sponsored by Bacardi International. The 2019 edition starts with registration on April 27 and racing beginning on Sunday, the next day. Other classes compete during Race Week, but IOD sailors pack in the most races, taking only one day off until the prizes are awarded on Friday, May 3. Twelve races on the Great Sound are scheduled, and this year, 13 teams have entered, 12 from overseas and 1 from Bermuda. Geographically, they hail from six countries—United States, Canada, Great Britain, Norway, Sweden, and Bermuda.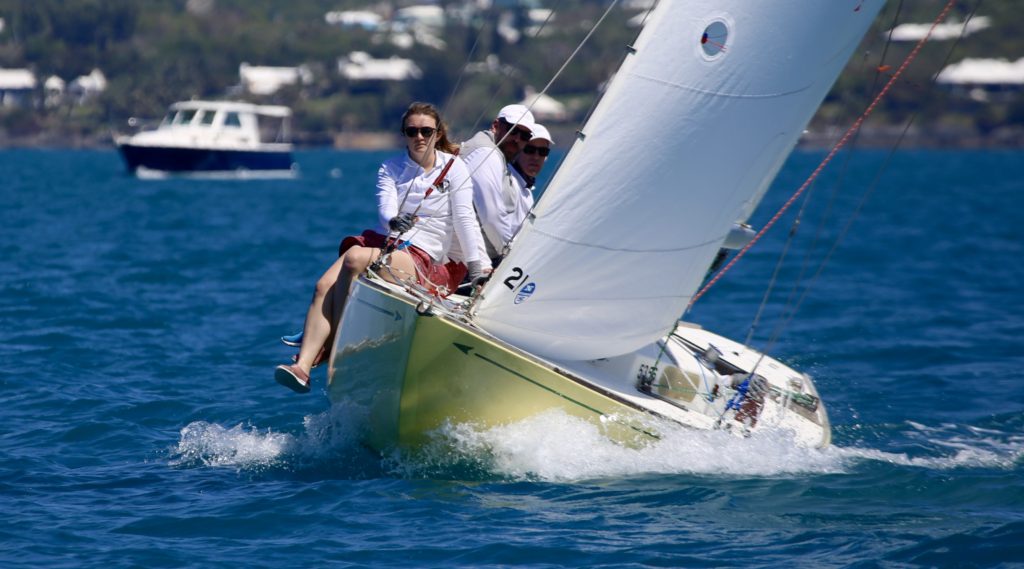 Five-time Race Week winner, Peter Wickwire, will lead a team from Chester, Nova Scotia, and clearly ranks as a favorite to defend the Vrengen Cup, which his Canadian team won a year ago. (Read the report of Peter's 2018 victory and his crew's explanation of their success.)
There are several teams that could challenge Wickwire, notably former IOD world champion Urban Ristorp, from Sweden, who is returning to Bermuda after a long absence. Another podium finisher at several world championships, David Rockefeller, of the Northeast Harbor fleet in Maine, will be on the line. A past president of the IOD class, David has been absent from Race Week for a number of years and is looking forward to returning to the Island.
Bermuda's Patrick Cooper carries local hopes and will very likely be in the hunt for silverware. Patrick won the IOD season finale last year, Bacardi Keelboat Regatta in November. Likewise, Peter McCausland and his Nantucket crew returns to the Great Sound and, as always, will be a factor at or near the top of the scoreboard throughout the week.
Challengers include another IOD veteran, Paul Zupan, from the fleet in San Francisco, who has raced in Bermuda many times before and is likely to do best in the event of high winds. Representing the fleet at St. Mawes in Cornwall, U.K., is Mike Conlin, who is returning once again this year for Race Week and looking to move up the scoreboard. Representing the Marblehead fleet is the husband and wife team of Racheal and Ian Morrison, leading a strong crew including Rick Echard and Nicholas Schoeder, both of whom skippered in 2018 at the Bacardi Keelboat Regatta and know the Great Sound well.
The final North American skipper on the roster hasn't raced an IOD in Bermuda in a while, but he is no stranger to top level racing and Bermuda itself; Bill Reed, of the competitive Fishers Island fleet, has raced in several Newport Bermuda Races, skippered his wooden IOD Golf for a couple of decades at Fishers Island, and was chair of the 2013 World Championship.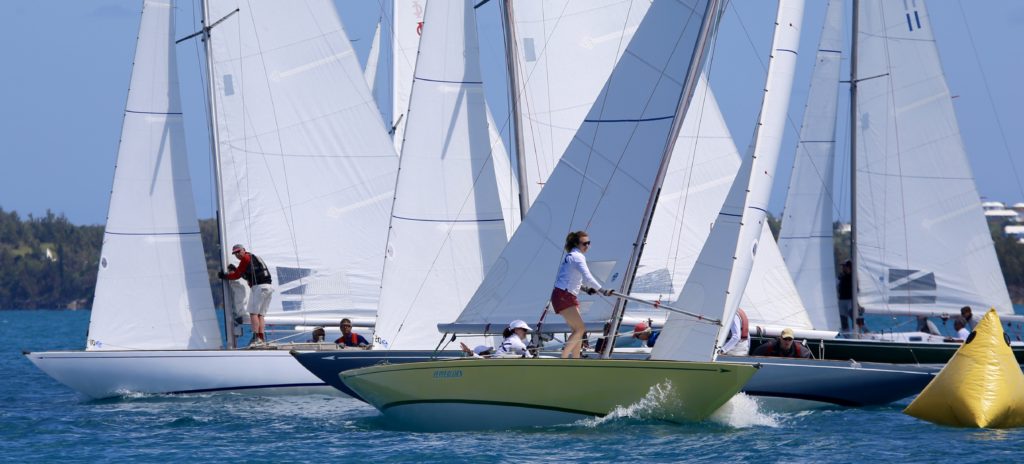 There are four more European competitors for Race Week attending this year, and all four will threaten the pecking order among the IOD sailors from the established fleets. Representing the Daring fleet, from Cowes, England, is Jeremy Preston, who has been to Race Week many times before and should do well. Also, from England representing the Haven Port Yacht Club in Suffolk is Mark Wincer. Last year was the first time Mark competed in Bermuda Race Week, and he is keen to do even better this year after last year's good showing. From Norway, we have Martin Rygh, who has sailed with J.P. Roed in many Race Weeks and more recently has helmed himself and done well. The final competitor from the Royal Thames Yacht Club is Olly Dix. His team has been a top-three finisher a couple of times and has its eyes set on another podium finish.