As winner of the 2018 Bacardi Keelboat Regatta, Patrick Cooper and team receive Armada Trophy from RBYC Commodore Jon Corless (second and third from right, respectively).
Patrick Cooper Wins 2018 Bermuda Bacardi Keelboat

 by Rick Thompson

Once again, the three-day Bacardi Keelboat Regatta was a spirited event with a total of 9 competitors—2 local Bermudian skippers and 7 competitors from the United States and Canada. Representing Bermuda was defending champion Patrick Copper and veteran Bermuda fleet IOD skipper Bob Duffy. The overseas teams came primarily from the U.S. East Coast with 5 teams competing in the regatta for the first time. Courtenay Jenkins from the Gibson Island Yacht Squadron in Maryland, Evan Petley-Jones from the Chester IOD fleet, Oliver Coolidge from the Nantucket IOD Fleet and Caner Dinlenc and Eivind Karlson from the newest IOD fleet, the Manhattan Yacht Club.
Racing got underway on Thursday under cloudy skies and windy conditions that were marginal for our boats to sail in. However, three races were sailed with the no-spinnaker flag flying, and Patrick Cooper dominated with two first place finishes and a second. The other top finishers for the day were Courtenay Jenkins in second place and Evan Petley-Jones in third place.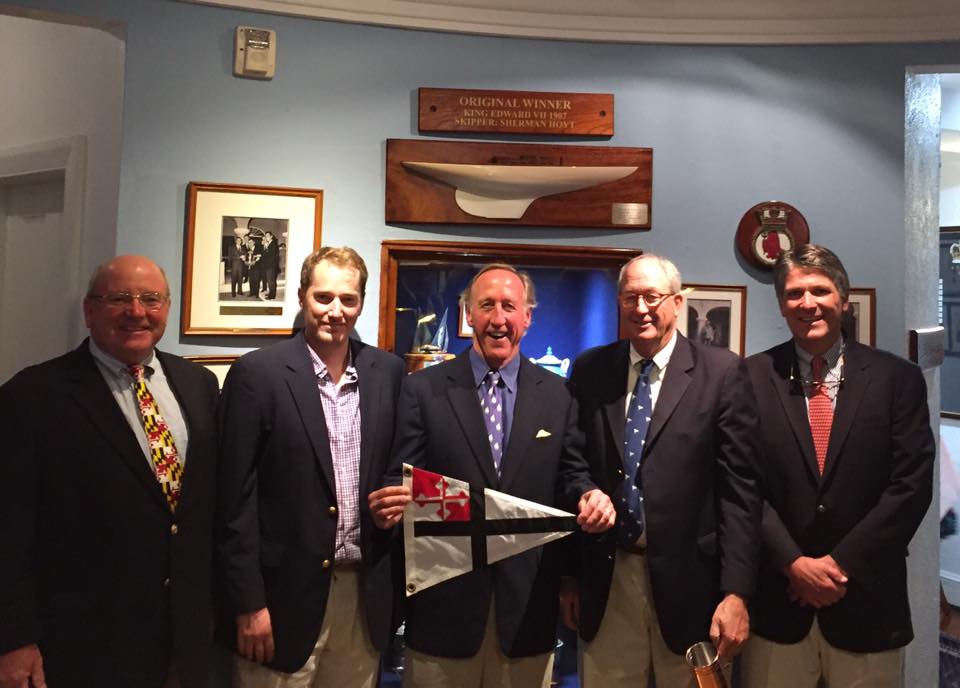 Mother Nature showed her fury on Friday with winds of 20 – 30 knots! Needless to say, retreat was the better part of valour and racing was cancelled for the day.
Saturday saw great sailing conditions with winds between 10 – 15 knots. Racing started an hour earlier so that four races could be sailed. The top three competitors fought it out to produce close finishes, and in the end Cooper and Jenkins tied for first place! However, on the count back, Patrick prevailed, defending his title. (Click here for Sailwave results for BKR – IOD Series at RBYC 20181117 FINAL)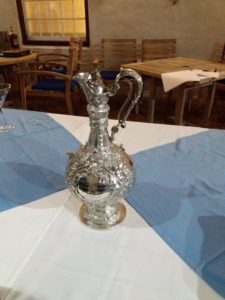 Prizegiving was held on Saturday evening at the RBYC with Patrick Cooper's team being presented with the "Armada Jug". This is the first time that this trophy has been presented to the IOD class as the perpetual trophy for the Bacardi Keelboat Regatta. It is reputed to be the oldest trophy in the Royal Bermuda Yacht Club trophy cabinet and is believed to have been salvaged from the wreck of a Spanish galleon from the Armada that attempted to invade England in 1588. It was donated to the Club by the former Governor General Sir Dennis Bernard in 1946 and was raced for the first time in 1949 being won by Bert Darrell. Sir Dennis was an avid sailor and sailed the IOD "Westra" during his time in Bermuda.
There was a second prize presentation, that of the Bermuda – Manhattan bowl. This goes to the highest finisher of a Manhattan or RBYC skipper and for the first time the team of Eivind Karlson won it for the Manhattan Yacht Club. Prizegiving was followed by dinner at Henry VIII which closed out a very successful and fun week where we connected with old friends and made new ones. We are already looking forward to next year!
Special thanks to our lead sponsor, Bacardi, as you can tell from the regatta title. They are always very supportive of our sailing events.