By Rick Thompson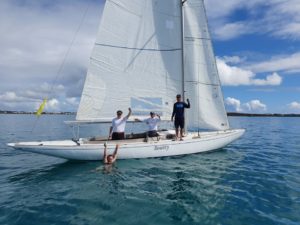 Following a successful Amorita Cup regatta a year ago, which saw a revival of team racing on the Great Sound between the Bermuda and Long Island Sound IOD fleets, we have created a new tradition by inviting the Nantucket IOD fleet this fall and introduced a new trophy, the Royal Bermuda Yacht Club Invitation Team Racing trophy.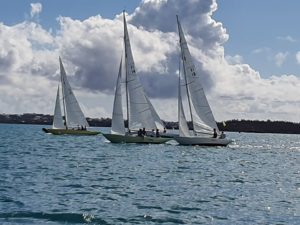 Each fleet would sail three boats, with three races on the Saturday and four on Sunday—best of 7 races to win. An experienced team of skippers from Nantucket consisted of team captain Matt Judson, Elliott Wislar, and veteran Richard Werdiger. The Bermuda team was headed up by captain Patrick Cooper, experienced team racer Kevin Horsfield, and newcomer Kelsie Durham. The weekend began with a welcoming cocktail party on the terrace of the Prince Albert Room for all the competitors and some of our local members and hosts.
The first of three races commenced at 11 am on Saturday Oct. 12th in light 8 to 12 knots of breeze under sunny skies, which was perfect for team racing. Race Officer Craig Davis did a superb job in setting courses during the day, and after three 3 races, the Nantucket fleet headed back to the dock with a 2-1 lead. That evening, dinner was held for all at the RBYC.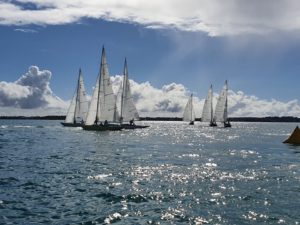 Sunday turned out to be another beautiful day with blue skies and light breezes. The Bermudian team immediately took charge and evened the series at 2-2, obviously not ready to give up the new trophy without a fight. They then took the lead 3-2 going in the fifth race and romped to the finish line, seailing the victory for a 4-2 total.
Back at the RBYC, everyone relaxed enjoying the sunshine, Dark 'n' Stormy's, and the good camaraderie that results from a regatta of this nature. Craig Davis presented the winning team with bottles of Bacardi and the new trophy. There were smiles all round and a challenge for a 'revenge regatta' from Nantucket. No question, this was another successful team racing regatta.
On the winning team, with skippers Cooper, Horsfield, and Durham were Bill McNiven, Paul Wright, Andrew Butterworth, Ron Stan, Raymond DeSilva, Robert Burkhart, Michael Richold, Heath Foggo. In addition to Werdiger, Wislar and Judson, Nantucket's team included Shane Wells, Ashley Cook, Mike Gemperline, Phil Cox, Matt Fremont-Smith, David Southwell, Matt Lau-Hansen , Taylor Breed, Matt Judson Jr.