By Chris Gould
Nantucket Race Week's featured IOD Celebrity Invitational Regatta was another success in 2019, both on the water and in the coffers of Nantucket Community Sailing. Top talent throughout North America gave back to the sport again last week, acting as Celebrity Tacticians for entering skippers and crew Aug. 15 and 16. Racing took place out on Nantucket Sound in a fleet of 14 evenly matched 33-foot International One Design sloops – modern replicas of an 80-year-old design.
The lure of the Celebrity event is its unique blend of many old friendships and rivalries, combined with a very high level of competition, making it a busman's holiday for tacticians and an experience like no other for their amateur teams.
Celebrity Tacticians were assigned to entering teams at the opening reception, based in part on entrants' optional "bidding", a benefit to Nantucket Community Sailing over and above the entry fees. Four former IOD world champions were in the tactician pool this year – Charlie Van Voorhis, John Burnham, Jonathan Farrar and two-time Rolex Yachtsman of the Year, Jud Smith. Other elite sailors serving as tacticians included Geoff Becker, Martin Kullman, Luke Lawrence, Suzy Leech, Tom Lihan, Mike Marshall, Cory Sertl, Mark Sertl, Chris Snow and Jeremy Wilmot.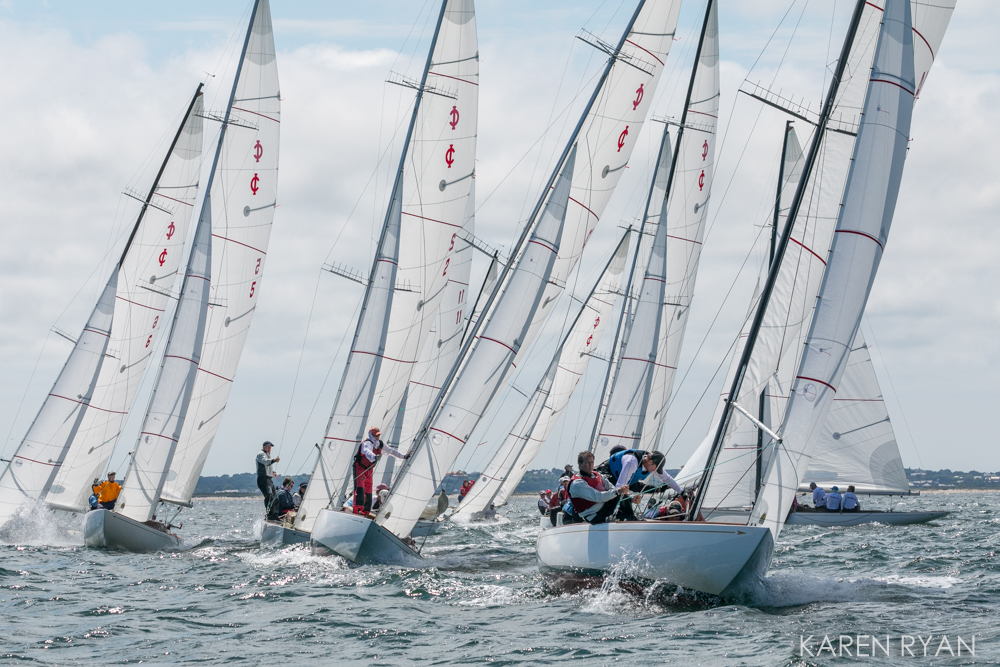 Nantucket Sound delivered championship conditions with two days of solid, sometimes tricky wind. The breeze was consistently from the northeast on Day One, starting in mid-teens velocity with a nasty chop in the sea and then gradually moderating to less than 10 knots and calmer water later in the day. Most agreed it was challenging, yet a good test of skills for the elite tacticians and many seasoned crews.
Gary Jobson (Great Harbor YC), who has himself played celebrity tactician to then-senator John Kerry in the past and was this year skippering, jumped to an early lead after two races alongside tactician Charlie Van Voorhis. But consistency was paying off for two-time former winner Heather Gregg (Stage Harbor YC) and tactician Chris Snow moving ahead after Day One with four consecutive top-five finishes.
At least half the fleet still had a shot at winning the series as the second day commenced, although fog led P.R.O. Eric Robins to keep everyone ashore most of the morning. Patience was rewarded as visibility improved and conditions were again excellent. Wind velocity held around 10 knots, initially from the east. With no discernible pattern, shifts up to 15 or 20 degrees shook up the fleet and the standings. For better and for worse, several reversals of fortune occurred throughout the fleet.
The team skippered by Ted Moore (New York YC), guided by celebrity tactician John Burnham, ended up at the top of the leader board after seven races, with scores of 5, (12), 1, 1, 10, 4, 2, to win by six points.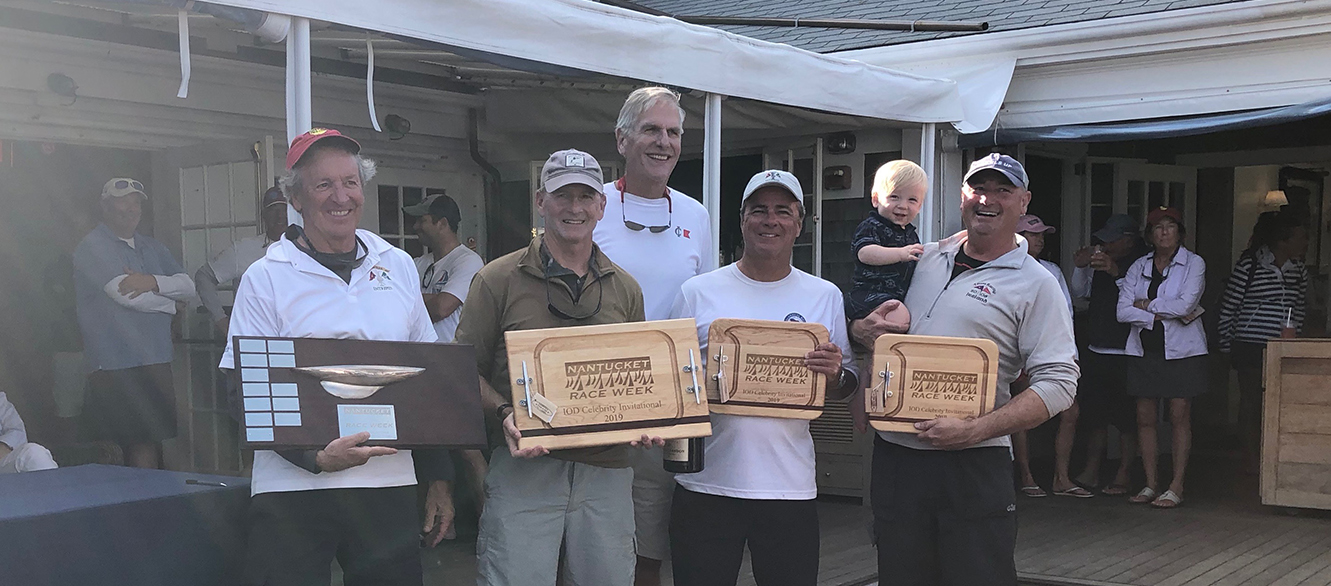 Jamie Hilton's Team Scoundrel (also New York YC) with Jeremy Wilmot calling the shots were faces in the crowd after Day One, but quietly kept moving up, won the last race, and delivered the only scorecard without a double-digit finish – good enough to break a tie for second overall against Heather Gregg/Chris Snow. Jobson and Van Voorhis finished fourth, while co-skippers Bob Constable/Courtenay Jenkins with tactician Jonathan Farrar rounded out the top five.
Just three points separated second through seventh place, providing an indication of the depth and competitiveness of the fleet. (See results.)
Moore and Burnham gave each other credit for the outcome. Tactician Burnham cited his helmsman's starting skills and concentration, while Moore sought and received IOD-specific boat speed help from the current (and twice former) class champion. By the last race, Moore was calling his tactician "the doctor" in response to fine-tune prescriptions and regular refills for speed and course optimization.
Not all competitors can do well scoring, but they all do good for the many local and summer participants who gain access to sailing through the many programs of Nantucket Community Sailing. One metric of NCS's impact is "kid weeks" (a youngster in a sailboat for a week) delivered by the organization's instructors, boats and facilities. With more than 1,000 kid weeks a year, over 600 youth participate, about half of whom are permanent island residents who join in a full or partial "scholarship" framework. The $40 thousand plus deriving directly from the Celebrity Invitational, together with the distinction it generates with its unique format, make the event a crown jewel of Nantucket Race Week.
The fundraiser is made possible by the Nantucket IOD Fleet Association, which provides its boats to support the regatta, and by the staff and facilities of local clubs – Nantucket Yacht Club and Great Harbor Yacht Club. Many local volunteers help with myriad regatta-related tasks on and off the water. Led by Anne Dewez, local residents open their homes to accommodate visiting sailors whose numbers this year represented over three quarters of the participating sailors – all demonstrating the true "community" spirit in Nantucket Community Sailing.