The beautiful Amorita Cup will be contested again in 2018 after a 36 year hiatus. This photo shows the winning 1962 Bermuda team of (left to right): Warren Brown, Edmund Cooper, Foster Cooper, Kirk Cooper, Archie Brown, Hugh Masters, and Bayard Dill.
Amorita Cup, Bermuda vs. Long Island Sound Team-Race Revival

By Richard Thompson
After a gathering dust for 36 years, the Amorita Cup will be in play again. The Bermuda IOD fleet has challenged the Long Island Sound fleet to a series of team races for this historic trophy, inviting the American fleet to travel to Bermuda and race in the local boats, October 12-14, 2018. The last time the Cup was contested was far too many years ago, in October 1982, an event won by the Bermuda IOD fleet.
Competition in IODs for the Amorita Cup has a long and colorful history dating back 81 years to 1937, when Frederick M. Hoyt offered the Royal Bermuda Yacht Club the Amorita Cup "as an incentive for the 'Mudians to trim the Long Island Sounders when they met in the new International Class". The Cup derived its name from a boat owned by Hoyt that won it as a prize in 1907 among Class "D" yachts competing at Larchmont, New York.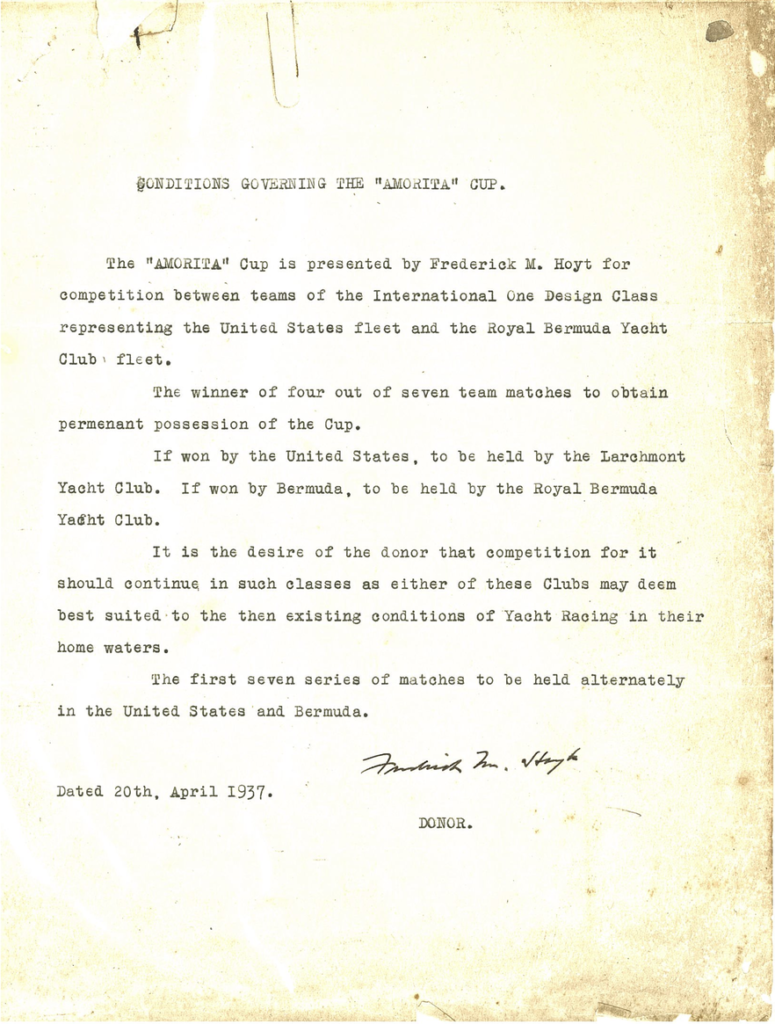 The inaugural team-racing series for the Amorita Cup was held in April 1939 in Bermuda. Mr. Hoyt travelled to Bermuda to watch the races, which the Americans won with a 4-2 margin in a best-of-7 series. Following that, sailboat racing was halted for several years because of the war, and team racing did not resume until 1946. After that, the Cup was raced for almost annually, with alternate series being held in Long Island Sound and Bermuda's Great Sound. Many well-known sailors from Long Island Sound have represented their fleet, including the likes of Corny Shields, Bill Luders, Arthur Knapp and George Hinman.
The evolution of the King Edward VII Gold Cup from an amateur match-racing event between Long Island Sound and Bermuda IOD fleet representatives to a professional regatta with world-class match-racing skippers unfortunately spelled the end of team racing on the Island. October had traditionally been the month for Bermuda IOD fleet team racing, but the Gold Cup match racing displaced it.
However, racing did not take place for the Gold Cup in 2016 and 2017, and it is now potentially being revived in May 2018. With the Great Sound clear of America's Cup multihulls, there's again a window of opportunity for a fall competition for the Amorita Cup.
When Bermuda's fleet contacted Jim Bishop Jr., fleet captain of the Long Island Sound fleet, to gauge interest among members in reviving Amorita Cup team racing in October 2018. Bishop polled his fleet and, a week later, gave a positive response. Game on!
This is a long overdue event that hopes to re-establish the rich relationship that existed for so many years between Bermuda and Long Island Sound. We'll provide a preview of the event next summer when team rosters have been filled out.
Editor's note: The last team to win the Amorita Cup, in 1982, included both IOD Hall of Famer Penny Simmons and Rick Thompson, author of this article. Thanks, Rick!