Peter Sutters/Nantucket Inquirer and Mirror
By Kate Jones
At the end of June, the weather rolls in and out in Nantucket like the waves. Friday brought vigorous downpours and there was deep fog on the racecourse on Saturday that suddenly lifted to a rush of blue sky. Suddenly summer arrived on Sunday, bringing light air.
Fourteen teams from nine fleets competed, and Chris Gould's Nantucket home team, Bravo took first place. To do so required a three-way tie-breaker won by virtue of Team Bravo finishing first in three individual races. Winning two races, Ted Murphy's team, Restless Chester from RNSYS/IPYC, took second, and third place went to Courtenay Jenkins's team, Chesapeake, of Gibson Island Yacht Squadron. Jenkins won one race, so the three teams won six of the seven races in the series and ended up tied when Murphy caught fire and won the last two races. However, Gould's team including Peter Barrett, Phil Cox, Matt Fremont-Smith, and Ben Kinney held on for a second-place finish in the last race maintained the tie, which broke in their favor.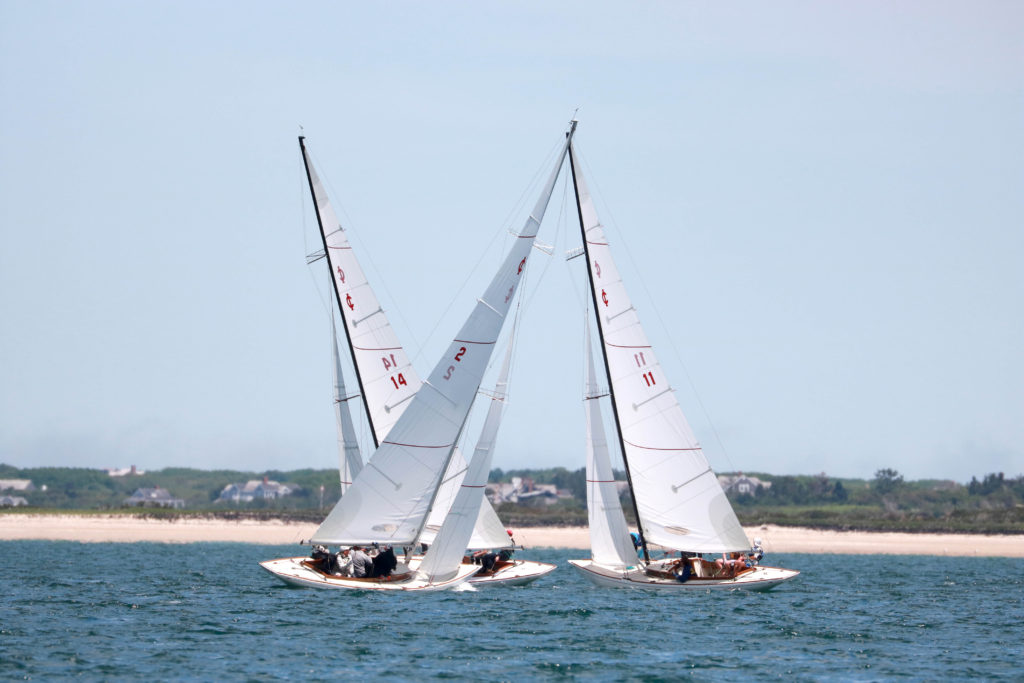 Peter Sutters/Nantucket Inquirer and Mirror
A memorable protest was made with the wave of a pink bandana on Saturday, which the committee declined to accept in lieu of a red flag. Another protest on Sunday involving boats outside of the top three could have elevated Jenkins to first, but the protest was disallowed and yielded no change in results: https://www.nantucketyachtclub.org/files/2018_IOD_Invitational.pdf
Congratulations to Team Bravo!