Story by Fran Charles; interview by John Burnham
In early September, 2022, 14 different crews participated at the IOD North American Invitational hosted by Northeast Harbor Fleet.  They came from the various fleets that sail these beautiful boats in San Francisco, Annapolis, Bermuda, Nova Scotia, Long Island Sound, New York City, Marblehead, and Northeast Harbor.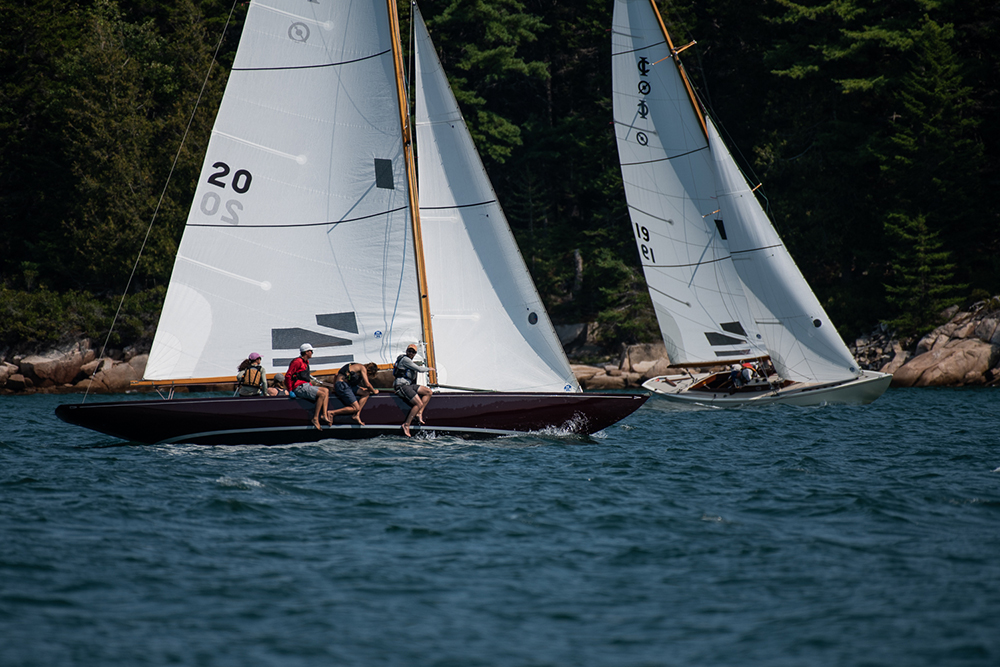 One of the local skippers, 20-year-old Sofie Dowling, skippered the winning boat, Team Mischief, sailing with her close friends Connor Ratcliff, Lucas Ingebritson, Alec Fisichella, Kevin Elk and Sean Beaulieu. In fact, the youthful crew from Mount Desert Island, all of whom learned to sail on these waters at the MDI Community Sailing Center in Southwest Harbor, absolutely crushed the competition, which was held over three days with seven races. Scoring four first-place finishes and three second-place finishes in the seven-race series, this stellar group won even before they sailed the last race.
The winds of Maine are especially fickle in September, but Team Mischief seemed at ease as they had the confidence to read the ripples and keep their sailboat always at the front of the pack.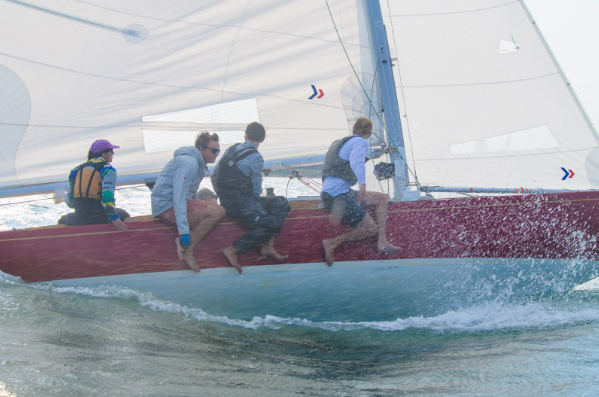 In the sixth race, Dowling had gotten squeezed out at the starting line and had to circle round with the other boats having an almost insurmountable one-minute head start at the beginning of the race. But they kept clawing back, starting in 14th, they were back in eighth place by the first mark. By the end of the run they had moved up to sixth. In a long upwind leg climbing out of the entire length of Somes Sound, Dowling worked her magic, keeping her boat sailing fast, playing the wind shifts to her advantage, and keeping her race boat in the favorable ebbing current to finish second.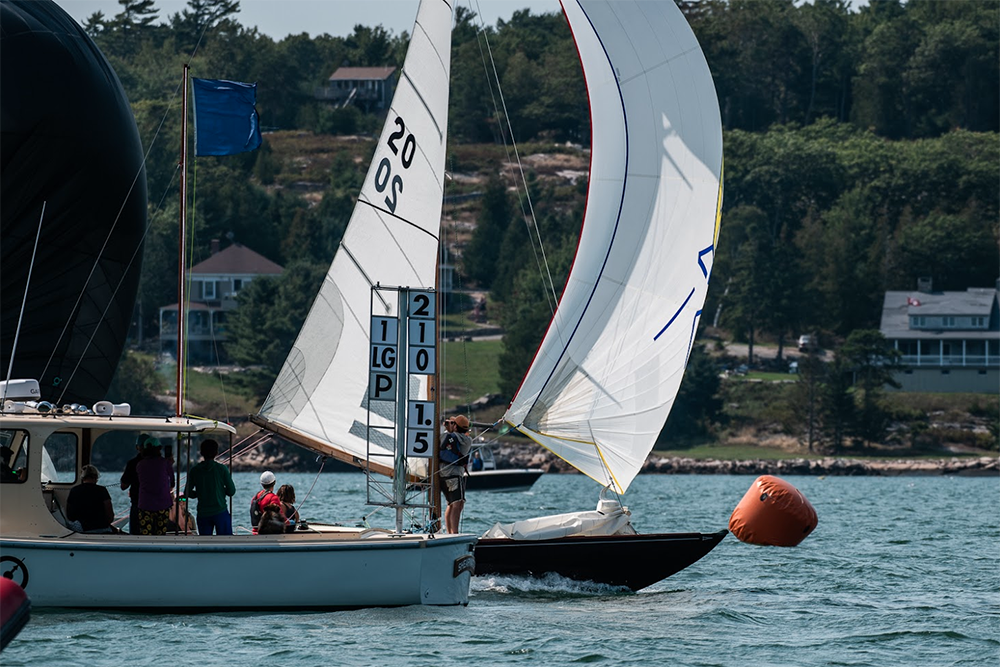 Ted Murphy, from the Chester fleet in Nova Scotia, skippered the second-place boat, and Blythe Walker, of Bermuda, helmed the third-place boat.
Many thanks to the multitudes of people who helped organize a wonderful regatta over the three-day regatta. Special thanks to Event Chair Steve Madeira, Kelsea Squires, David Schoeder, David Folger, the Fleet Green Team, Vittoria McIlhenny, Hilary Kennedy, Commodore Mia Thompson, Rick Echard and all the personnel on RC duty and who assisted hosting events. It was a monumental undertaking.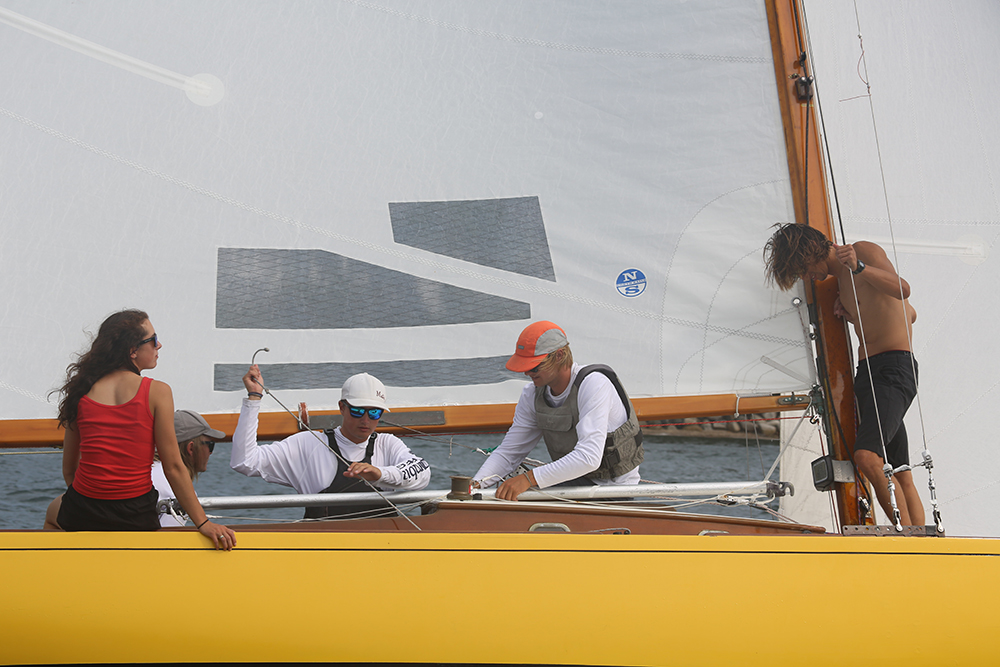 Later in the fall, after the team had also finished fourth at the IOD World Championships at Fishers Island, N.Y., we put some questions to Sofie, asking her to fill us in on Team Mischief.  
How long have you and your team have been sailing IODs at Northeast Harbor, and when did the team really start to gell and decide you could compete at a top level?
My iteration of Team Mischief has been sailing together for three seasons, although only two were full summers of sailing every Monday and Saturday. The summer leading up to North Americans and Worlds, we were not able to compete regularly due to the pains of growing up—we had jobs, school, and some of our team relocated and weren't able to sail regularly. That made it all the more exciting (and nerve wracking) to have these two high-level events coming up at the end of the summer. 
I think we all realized we could be a real competitive force pretty early on, after the endless sanding, rigging and painting had subsided. On our first day racing Mischief in the summer of 2020, we were towed to the starting line, still rigging the boat, and we secured a fifth and a first. From there we just did our best to keep it going! 
We admit to being a somewhat motley crew, and from that first day, we have taken pride in being the only boat in our fleet to do all our own boat work, play music between races, and have no shortage of laughter on the boat, on and off the course. We take our racing very seriously. Even though there is perhaps more levity on our boat than some other nationally competitive vessels, we always debrief and strategize before we get out the lunch and music, and have everything stowed and the team dialed in far in advance of the next sequence.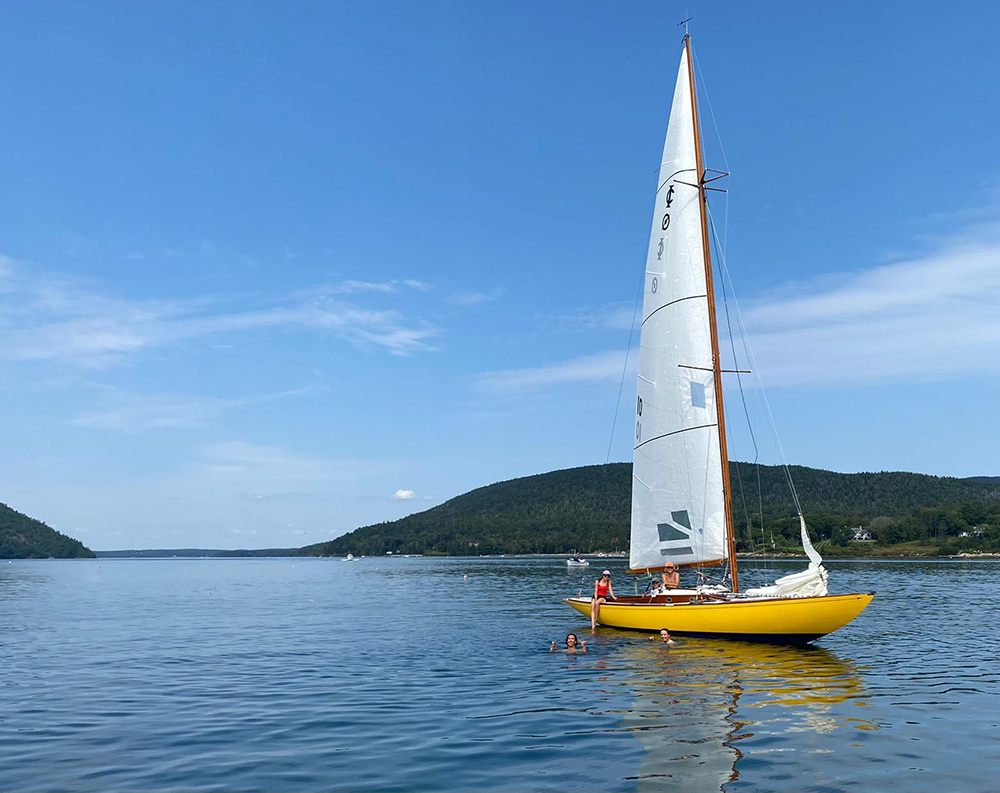 At what moment in the regatta did you realize you could be "in it to win it?"
After a summer of little racing together as a team, we packed our snacks and headed out with the mentality of keeping our eyes open and having fun. When sailing in familiar water, it is easy to get complacent and rely on a breeze that will most likely fill in or the lift that is usually on a certain shore. We never discount that tried-and-true knowledge, but we always make sure our eyes are peeled for anything developing, whether we predicted it or not.
I think our goal of being competitive in the regatta was confirmed on the first day. After the uncertainty of the summer, we were thrilled to win the first race, but my feeling of good fortune and joy preceded the finish by quite a few legs. From the warning signal, our team worked together seamlessly, each person brought their knowledge, and skills, both new and old, and it was as if no time had passed. After that first bullet, a second-place finish was acceptable, and as we continued to keep, create, and battle for leads over the weekend, it was cemented for us that our younger team was a force to be reckoned with at a new competitive level.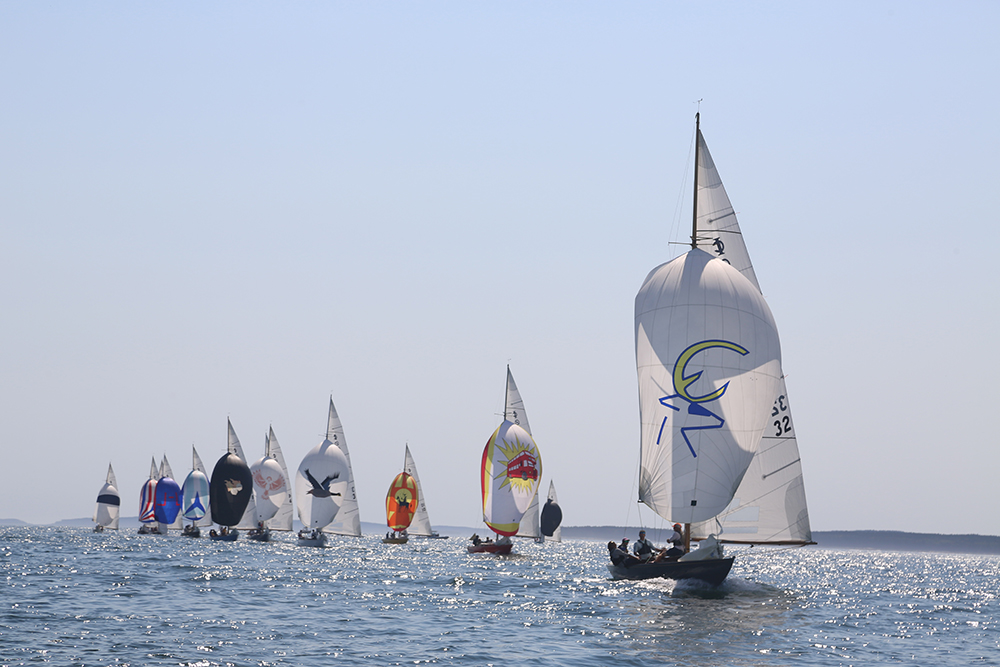 What are you best at as a skipper?
I was a very shy younger person with many doubts and a penchant for worrying about my ability when it came to new experiences, and although it was only three years ago I am still surprised that the teenager I was then agreed to skipper my father's 80-year-old boat. I am so glad she did, and I have come a long way from that timidity, but I would say my biggest area for improvement as a skipper lies in decisiveness and confidence. I have learned a great deal about those sailing virtues in the past few years. Occasionally through glaring mistakes—it only took one rounding and watching John Henry's sleek dark hull slide away from us to convince me that when my tactician says go, I should poke our bow up right away. I saw the gap, but I hesitated and it was gone. I haven't hesitated since, as long as I can see the gap he means, however skinny it looks from the back of the boat. 
In recent seasons, I have really enjoyed getting into match racing with Alec and the rest of the team, and even in my predominantly crew positions, it has brought me leagues ahead in matters of shooting gaps and picking a side. I look forward to continuing to grow and trust in myself and my abilities—I am continuously overjoyed that my team keeps coming back to sail with me. They are some of the best sailors I have ever met, and the fact that they choose to race with me on their team is the best vote of confidence I could ask for.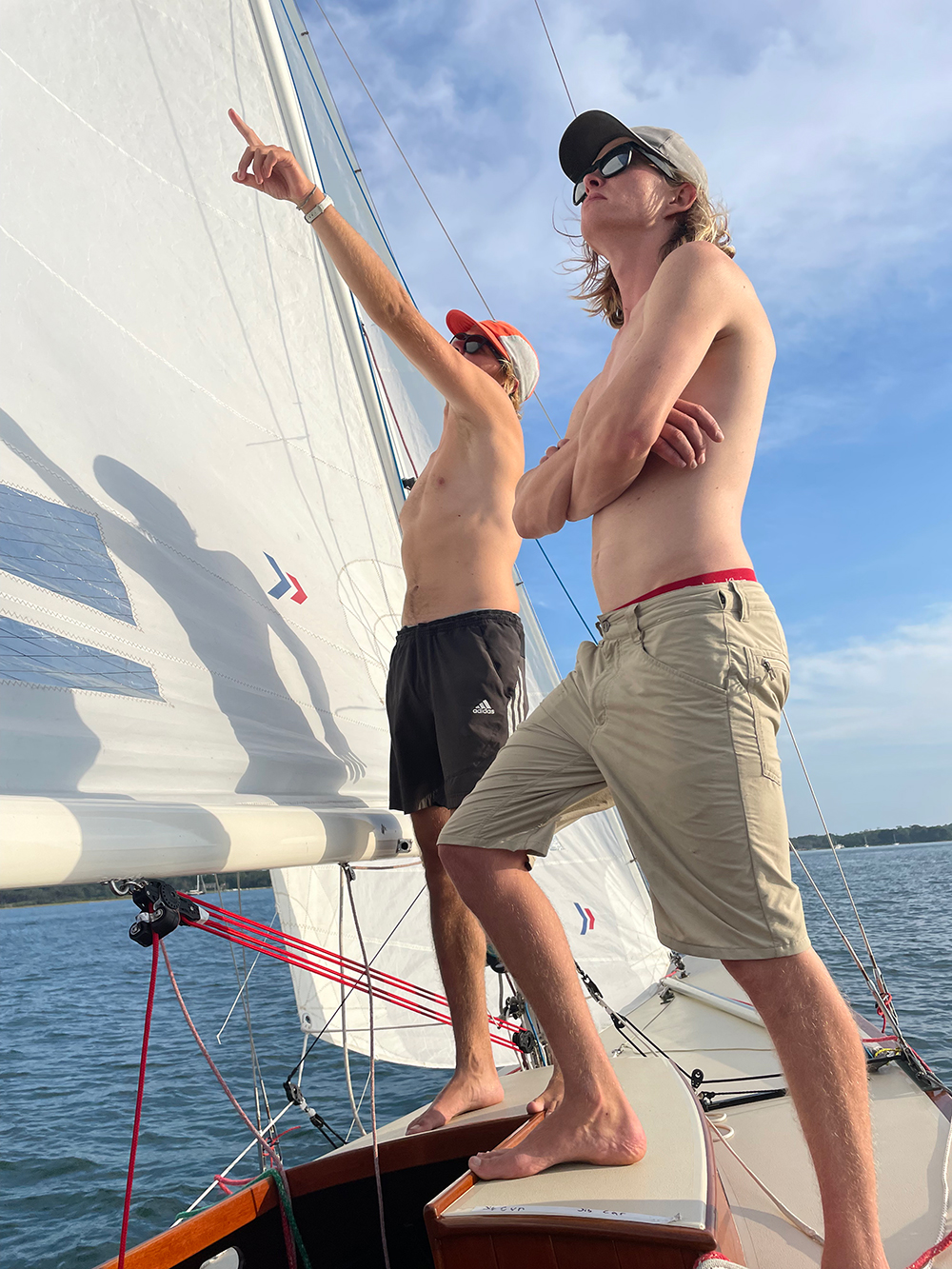 Looking back on the regatta, what was the highlight moment?
My highlight of this regatta is the same as many highlights before—sailing fast with some of the most wonderful people I have had the pleasure to meet. Sailing with your friends has to be the best way to do it, but doing well and winning with your friends? I have yet to encounter a more joyous, satisfying feeling on the water. We were all so honored to have challenged some of the best IOD sailors in North America and the world. The opportunity, the friends, and connections we made, and the skills we picked up and honed over the course of the regatta will stay a highlight in my mind and my sailing career so far for a long while.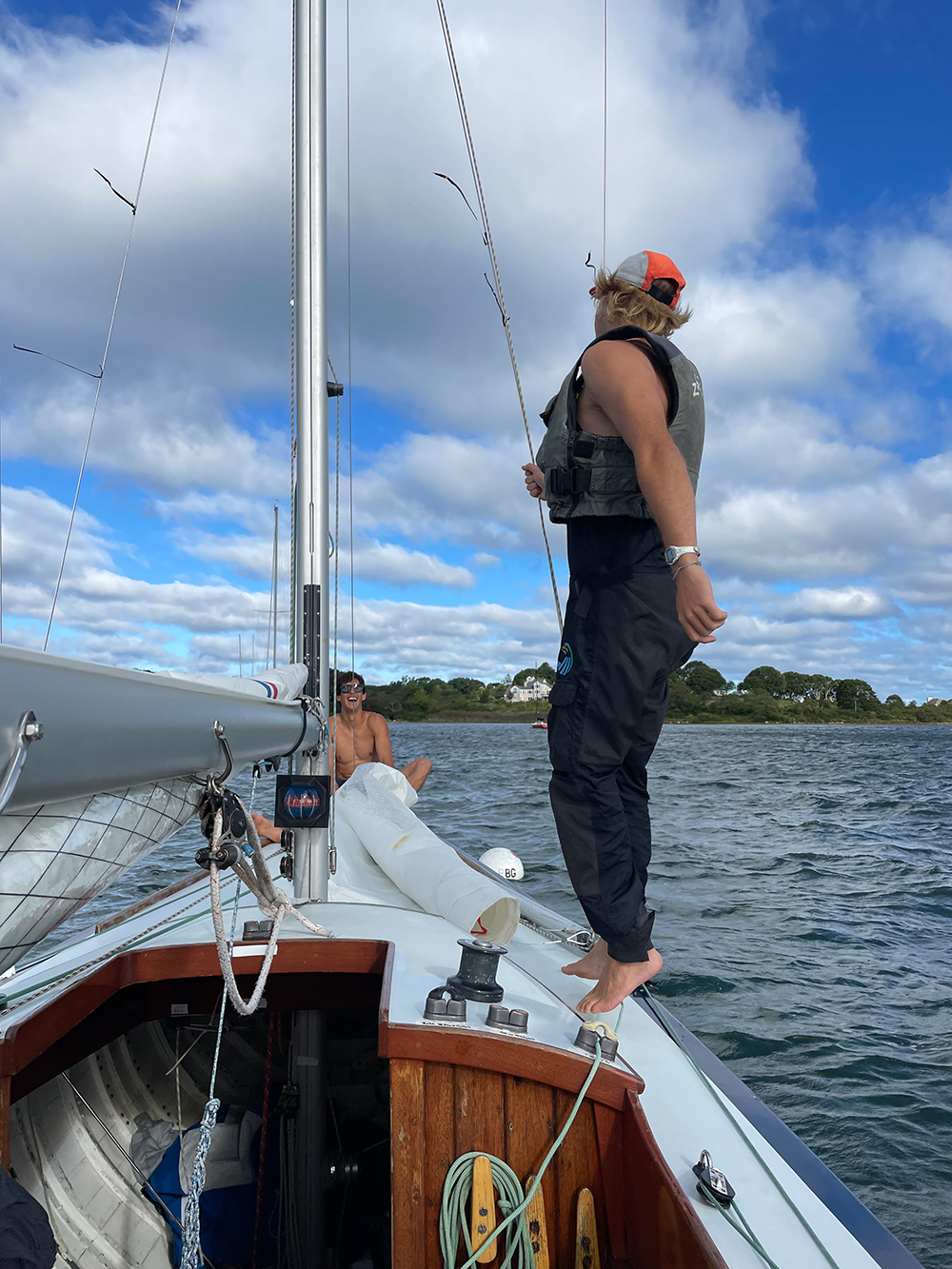 Many more stunning photos by Wythe Ingebritson
https://photos.app.goo.gl/fqcRDYuw5eoSeuyw7