2019 IODWCA Fleet Reports
Bermuda – Not Available
Chester
CHESTER IOD FLEET ANNUAL REPORT 2018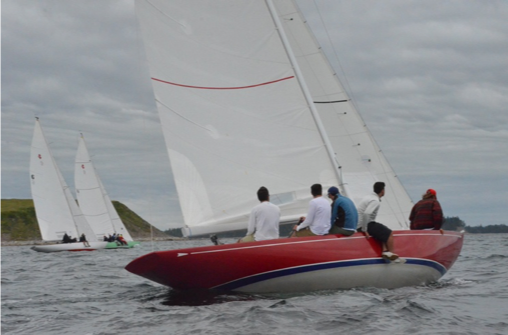 This has been another good year for the Chester IOD fleet. Lots of good things have happened over the past 12 months. Over the winter, Shawn Mulrooney and South Shore Marine boat works completed two new fiberglass IODs using the class molds. They were built in tandem and completed this spring. The first was "Sterling" which was purchased by Todd Murphy of the Manhattan Yacht Club. She has been shipped to New York and is a proud member of the Manhattan Yacht Club emerging IOD fleet. The second new build is the beautiful red boat called "Coachman".  She joins the Chester fleet and gives us 12 boats; this will form the basis for Chester hosting the IOD Championship in 2020. "Zephyr II" was purchased by a syndicate at the Manhattan Yacht Club and left our Chester fleet.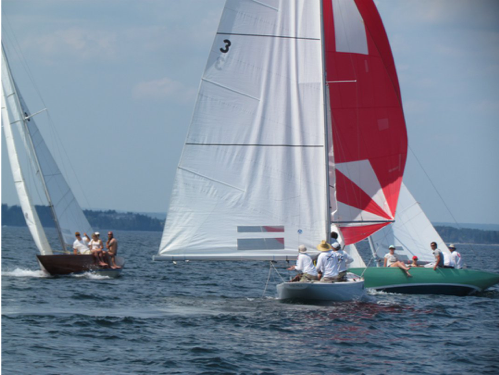 The Spring means sailing in Bermuda at the Bermuda International Invitational Race Week. This year, Peter Wickwire returned to the Island to represent the Chester Fleet. Despite a slow start, he once again dominated the racing and won the "Vrengen Cup" for the 4th time. The Chester Fleet seems to be dominating this event; last year Ted Murphy also won the event for us.
The next major regatta on the agenda for Chester skippers was the Nantucket Invitational in late June. Ted Murphy once again represented Chester. Ted enjoyed a successful weekend in Nantucket and finished in a 3-way-tie for first place which was ultimately won by Nantucket's Chris Gould in the tie breaker.
Local racing is now underway for our fleet with Thursday night white sail racing and a full weekend program. In July, we held our first weekend regatta which we used as part of our 'Worlds' qualification series. Six of our fleet participated. Ted Murphy prevailed and won the weekend series. We have welcomed two new young skippers to the fleet. David Mosher is racing our new build "Coachman" and loving it! The second young skipper is Caisey LeBlanc who is sailing "Ibis" for the season.
August brings out the biggest participation for us. First is the Indian Point Regatta at Indian Point, followed by the Chester Classics weekend and finally Chester Race Week. The Indian Point Regatta was very close racing between Shawn Mulrooney and Evan Petley-Jones as 6 boats participated. However, in the end Shawn beat Evan by one point. Next up was the Chester Classics Regatta. This regatta is evolving into split fleets and separate prizes for the IODs as well as trophies for the larger Classic boats. Three IODs participated over the 3 days and in the end, it was Steve Bond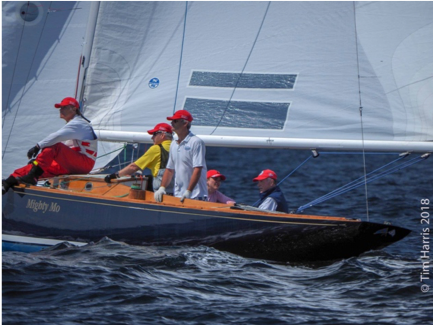 showing us how to race around the buoys, his favorite way of racing.  Next up: Chester Race Week. There were 10 IODs on the One Design course for the regatta for the week. It was keenly contested as it represents the major component to our IOD worlds qualification series for next year which will be held in Marblehead. Eleven races were sailed over the 4 days and anyone of 5 skippers could have won the regatta. However, consistency wins and in the end. It was that consistency of good finishes that elevated Evan Petley-Jones to the top of the podium! This year, from August 30 to September 02, the Chester IOD fleet hosted the IOD North Americans for the second time. We had 10 participants from our North America IOD fleets. Evan Petley-Jones and Peter Wickwire represented Chester in this regatta. Our 2 Chester representatives showed superior sailing skills in champagne sailing conditions and it wasn't until the final race that the winner was determined. Peter nosed out Evan to become the IOD North American Champion. Our guests, many of which were visiting Chester for the first time, raved about the area, the boats and our Nova Scotia hospitality.
The IOD World Championships were held in Gothenburg Sweden this year at the same time as we were hosting the IOD North Americans. Ted Murphy was flying the flag for us at this regatta. After 2 days' racing, Ted was tied for first place. However, fickle conditions and light winds sabotaged his campaign to relegate him to the middle of the pack. This was Ted's first IOD Worlds and I expect he will be in the winner's circle in the not too distant future.
The final chapter for our fleet this year was the participation of Evan Petley-Jones in the Bermuda Bacardi Keelboat Regatta held in November in Bermuda. A fleet of 9 IOD's took part with the majority of the participants coming from the U.S. East Coast. High winds cancelled one of the 3 days of sailing but the organizing authority, the Royal Bermuda Yacht Club, was able to get in 7 races. It turned into a 3 man race between Bermuda's Patrick Cooper, Courtney Jenkins from Baltimore and Evan Petley – Jones. In the end Patrick Cooper became the repeat winner and Evan ended up third.
Please visit Chester IOD Fleet on Facebook https://www.facebook.com/ChesterIODFleet/ for pictures and articles on the regattas mentioned above. Ultimately, it is the people who shape this Club and give it the vibe that it currently has. Our thanks to all our members and supporters in Chester and Indian Point.
Respectfully submitted,
Richard Thompson
Fleet Captain
Fishers Island
June 13, 2019
There has been virtually no IOD sailing at Fishers Island since our last Fleet Report save for our infamous Round (Fishers) Island Race and the delivery of Jester and Norwegian Wood to Marblehead to support the 2019 IOD Worlds. Not surprisingly, there is very little new activity to report.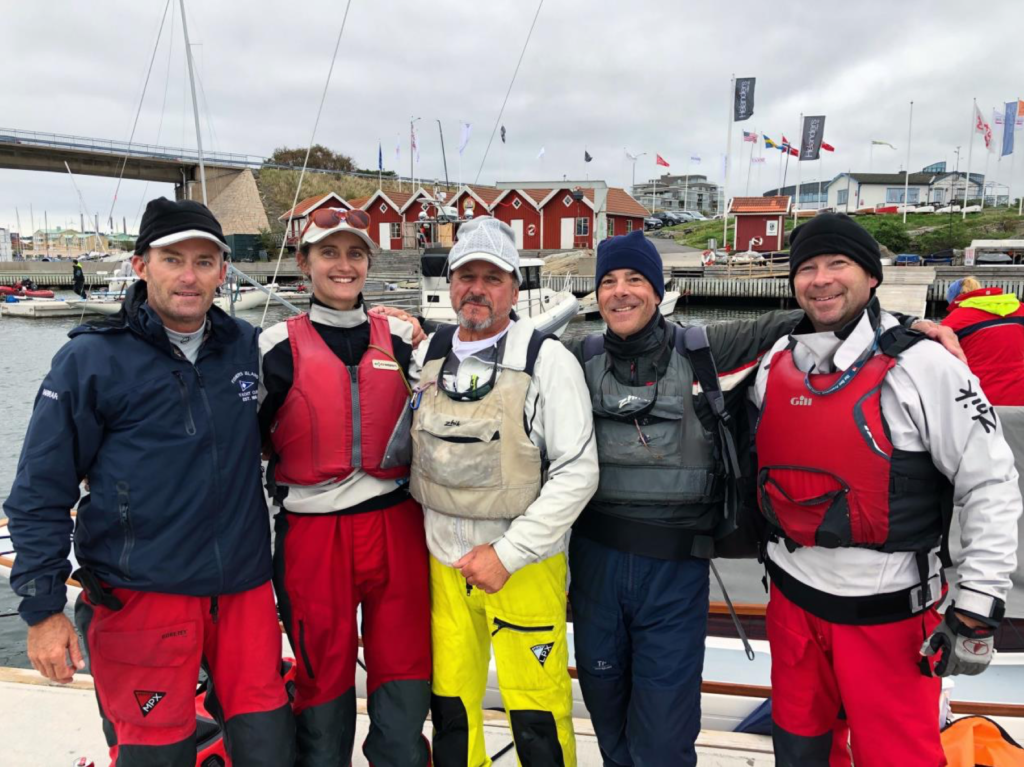 However, there is one very notable exception – Fishers Island's Team Zallee won the 2018 IOD Worlds in Sweden with Jonathan Farrar, Isabelle Farrar, Mike McNamara, Kevin Wypychowski and Kevin Gillman repeating as World Champions. They are headed to Marblehead shortly to defend their World title. Accompanied by John Burnham and Team Norwegian Wood, Fishers Island will not doubt be well-represented.
Our on-island racing season will be getting off to a slower start than usual, since four of our boats have been loaned to this year's Worlds. But come July, we expect to have 10 boats racing most weekends this year. We are all keeping our fingers crossed that Kevin Farrar and Kahoutec will join us again in 2020 and make it 11.
Celerity which was renovated by Arthur Kuijpers last year is expected to pick right up where she left off last summer. The oldest boat in our fleet, Allegra ultimately proved too much of a good thing for Harvard Medical School student Chris Callahan and family was sold over the winter to Kip Williams. Kip dove right into the fray, completely re-caulking, repainting and re-rigging Allegra over the winter. The Fishers Island Fleet is looking forward to welcoming our newest Fleet member to our regular Saturday afternoon racing.
Several members of our fleet continue to support the class and we are grateful to them. Bill Reed has chartered his boat, Golf, for the upcoming 2019 season to Kate Jones and Doug Moreland of the Manhattan Yacht Club Fleet. The FI IOD Fleet is looking forward to sharing our special mix of camaraderie and competition with this MYC crew. Brad Burnham continues his support our fleet by sponsoring the junior boat, and the class by loaning Creole to the Marblehead Worlds. Wes Maxwell stepped up again this year by providing the hauling and re-launching of two of the loaned IOD for the Worlds and actually driving one of them to Marblehead himself.
The Fishers Island IOD Fleet is looking forward to another successful season in 2019.
Respectfully submitted,
Charlie Van Voorhis, Fleet Captain
Fishers Island IOD Fleet
Fredrikstad – Not Available
Long Island Sound
The Long Island Sound fleet is looking forward to a fun racing season.  We have five boats in the fleet:  Nefarius (Jim Bishop/Elliott Wislar), Makai (John Evans/Phil Kennedy), Dark Horse (Zach Horton).  Jennifer Miller's boat was just re-christened Goldilox.  Newly married, Vin and Sophie Marshall are sprucing up Elation.  She should look yar and will be splashed imminently.  Team Nefarius will be participating in the Worlds.  Joining them will be team Makai.  Team Goldilox will participate in the North Americans.
Manhattan Yacht Club
2018 was an exciting year for the Manhattan Yacht Club's IOD Fleet. In our second IOD racing season, our Fleet expanded from four actively racing IODs to six, including the arrival of our second new build from Shawn Mulrooney and his boat building team from South Shore Marine in Chester. Our growing Fleet continues to generate more interest, excitement, and enthusiasm from the sailors at the Manhattan Yacht Club and in New York Harbor. Our Fleet races every Thursday evening and Saturday afternoon from May to October. Our Fleet Championship will be held in September.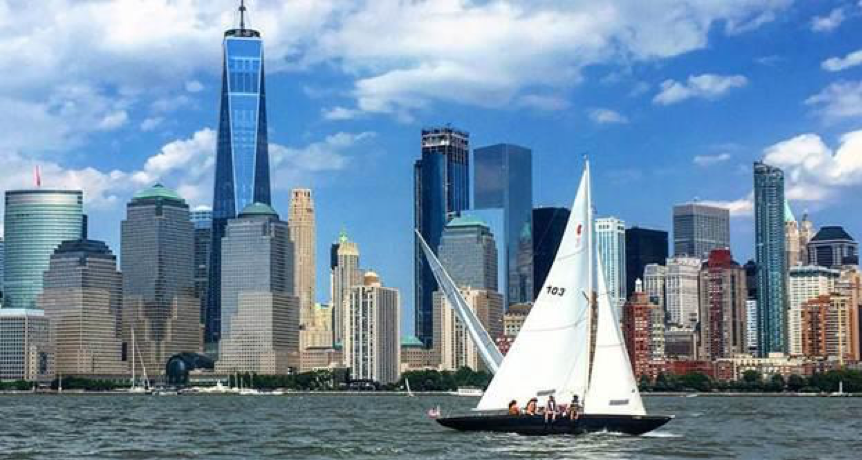 Our Fleet has been especially enjoying racing in the IOD regattas around the world. In 2018, our Fleet competed in the Worlds in Stenungsund, Sweden, and in the North American Invitational in Chester.
Our Worlds team, in addition to a social team of four members from our Club, had a particularly great time in Sweden. We rented a fabulous house on the water at the end of a fjord with a wood burning hot  tub and a wood burning sauna. We hosted a big barbeque and invited the other IOD racing teams, and we all had a wonderful time. Two teams from our Fleet competed in the Bacardi Bermuda Keelboat Regatta in November for the third year in row, as well as the Nantucket Invitational in June.
In 2018, our Fleet planned two additional initiatives for 2019. In May 2019, we organized our first annual Invitational Regatta. We chose a different format by inviting skippers from other clubs to race with our local Manhattan IOD sailors serving as crew. Since our Fleet is relatively new to IOD sailing, this provided a valuable opportunity to learn from experienced IOD racers, and show our invited skippers the breathtaking views and challenging current and racing conditions of New York Harbor! Our invited skippers included Jean Burden from Northeast Harbor leading the all women team, Casey Nickerson from Tilton, New Hampshire, and Dan Faria from Newport. Dan won First Place; he is the Commodore of the Ida Lewis Yacht Club and has been racing in both IODs and Shields for many years.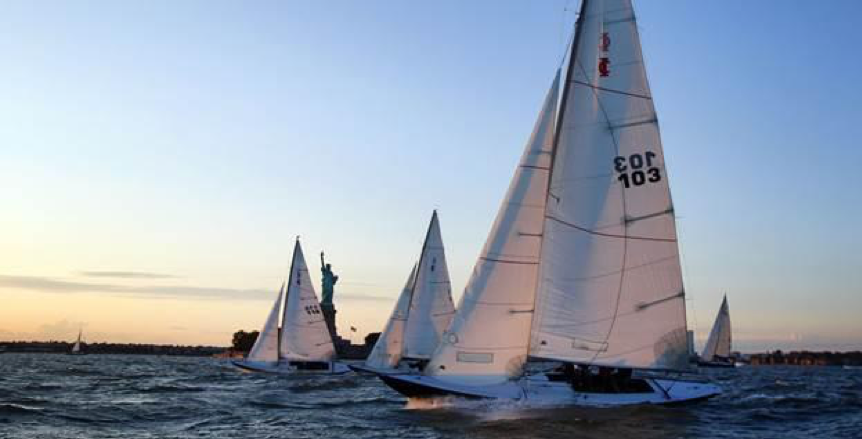 The second initiative we planned for 2019 was organizing three "Manhattan Yacht Club IOD Expos." These IOD Expos will provide opportunities for MYC Members to experience the beauty, grace, style and elegance of the IOD with a cruise around New York Harbor under the gaze of the Statue of Liberty and the New York skyline, followed by a barbeque with IOD sailors. By sharing the knowledge and experience of the IOD Class to more of our fellow Club Members, we hope to accelerate the expansion of our Fleet with additional purchases of new build IODs from Shawn Mulrooney and his team in Chester in the near future.
We look forward to competing in 2019 in Worlds in Marblehead, North Americans in Nantucket, the Larchmont Race Week, and again, for the fourth year in a row, the Bacardi Bermuda Keelboat Regatta in November!
Respectfully submitted, Doug Witter
MYC Fleet Commissioner
Marblehead
May 12 2019
To: IOD WCA
From: Greg Mancusi-Ungaro, Fleet Captain, Marblehead IOD Fleet
Re: Marblehead Fleet Report
The Marblehead Fleet welcomes all of you the 2019 IOD World Championship. We have been working for about 24 months to make this event happen, and we are excited that it is finally here. We hope thatyou have a great week, and enjoy racing our beautiful open-ocean sailing area.
The Worlds puts pressure on the host fleet, but it is a positive kind of pressure. We are so pleased to have these days of the Championship finally arrive (and we'll be doubly pleased on Sunday evening when it is over and the borrowed boats are all on their way home!)
We must note that for this Championship, the Marblehead Fleet has again received tremendous support from our good friends at the Fisher Island Fleet. Without their help and willingness to go the extra mile, this regatta would not have taken place. The "second entries" at this regatta should make sure that they are buying John Burnham and Peter Rugg extra drinks this week – you're here because of their extraordinary efforts and the efforts of Charlie Van Voorhis, Brad Burnham, John Burnham and Wes Maxwell.
At this AGM, the Marblehead Fleet would also like to formally recognize Herb Motley, who has been a vital part of the Marblehead fleet and World Class Association since forever. Herb announced his retirement from (regular) IOD racing last summer – his boat, the 1958 woodie -KUNGSORNEN, has been sold to Alejandro Camino, who raced aboard hear last season, and who has dived into our community with abandon.
Herb served the Marblehead Fleet and the World Class Association for many years – as Marblehead Fleet Captain, as World Class President, as currently serves as the IOD Class Historian. Frankly, Herb will take on any project, or do whatever needed — sometimes even a little extra – serving as an enthusiastic promoter of IOD racing, wherever is taking place. The Marblehead fleet acknowledged Herb at our end-of-season dinner last fall, with remarks and a lengthy standing ovation. Of course, Herb is not going gently into the night. He has been instrumental in our planning of the 2019 World Championship, including being the mastermind behind the opening ceremonies on Saturday June 15. And there is no doubt that Herb will be out on the water from time to time, steering the boats he loves so much to top places in our fleet.
In other news, the Marblehead Fleet continues to enjoy great competition and great camaraderie. There are fifteen raceable IODs in the Marblehead area and two "project boats" under cover, or in nearby garages. For many years, the Marblehead fleet was deeply concerned about succession planning, but we have welcomed four new owners to the fleet over the past three years, and are now working to support them in getting their boats on the starting line every week.
Last year, ten of our boats competed in the Marblehead summer championship. Thirty-five races were scheduled, but bad weather (not enough wind some weeks and too much other weeks) conspired to limit us to only twenty-seven races were completed. The last two seasons we have incorporated the two-day long Corinthian Classic Regatta, as part of our season championships and qualifying series. This has been a great success – we spend two days showing our IODs off alongside historic sloops, ketches, yawls, and schooners. We fit right in!
Our season championship was won by Bill Widnall, with Tim Dittrich, who made a strong and consistent effort over the summer, finishing second. Greg Mancusi-Ungaro snared the third position on the podium, edging out Ian and Rachel Morrison, who finished fourth overall. The complete results are found at www.marbleheadiod.com
While ten participants may seem a historically low number for our fleet, we do not think it is a harbinger of a weak time for our fleet. Health and family related issues conspired to keep two of our boats completely out of the water and one of our boats very lightly raced. We expect to see both of the absent boats back in action this summer, sailing the majority of races. And the lightly raced boat is gearing up for a full season of racing. We are also hoping that we might see two more long absent boats that launched this year to support this World Championship join us for some Saturday racing. If they do come out to play, we will have a fourteen-member fleet for the first time in many years.
Structurally, the biggest issue that hinders fleet growth in Marblehead is moorings. As anyone who has been to Marblehead knows, the demand for moorings in the main harbor is at an all-time high. The waiting list for an IOD mooring is at least fifteen years. To make matters worse, when you sell a boat in town, you are not allowed to transfer the mooring with the boat. The Marblehead Fleet incorporated a few years again, and thanks to some timely negotiating by Bruce Dyson, the Marblehead Fleet is now on the waiting list for fleet-owned and maintained moorings. Further, when Marblehead IOD owners give up their moorings, it may be possible for those moorings to be donated to the fleet. Over time, the Marblehead fleet would like to own about four or five moorings, which would be made available to local IOD teams who are committed to a racing program. With a small cache of fleet-owned moorings, it will be possible for us to market the fleet more successfully, and for new owners to purchase boats and join in the fun immediately, without enduring years in mooring limbo.
This season at least five different Marblehead teams will represent Marblehead at one of the IOD intra-fleet events organized across the various fleets. We are very excited to see this much enthusiasm for travelling re-emerge. In Marblehead, the teams that set their sights on travelling rarely miss any of the our qualifying races.
Our class officers are Greg Mancusi-Ungaro, fleet captain (gregmu@yahoo.com); Marc Migliazzo, fleet secretary (marc.migliazzo@gmail.com); Leigh Baines, treasurer (llbaines@verizon.net), and Michelle Brown, Social media director/web master (michelle.andrea.brown@gmail.com)
Nantucket
Nantucket IOD Fleet Association
Report to the World Class Association
May 2019
Fourteen IOD's will be launched for the 2019 season.
June 28 and 29 Nantucket will host the North American Championship Regatta, and thirteen teams are expected to race: 2 from Bermuda, one from Chester, NS, 1 from Fishers Island, Long Island, Manhattan, and San Francisco and 2 from Marblehead, Nantucket and Northeast Harbor.
On August 15 and 16 the IOD Celebrity Invitational will be raced during Nantucket Race Week. This regatta attracts some of the finest sailors from the east coast and around the country. It also is a fundraiser for Nantucket Community Sailing. For more information please contact Chris Gould at gouldcw@gmail.com.
Peter McCausland of Golf syndicate raced in Bermuda Race Week. Chris Gould of Bravo syndicate will race in the World Championship in Marblehead, and Dan MacKeigan and Richard Werdiger are racing in the North American Championship on Nantucket.
New jibs were ordered for all IOD's. Last year we purchased new mainsails. All are supplied by Doyle. New trailers and winter covers are being purchased over time. Further we have outfitted all spinnaker halyards with Tylaska shackles. Raised decks and Velocitek compasses were installed last year.
Last season concluded with Peter McCausland winning the series. He also won the Commodore's Cup for the best racing record at the Nantucket Yacht Club. The Richard Sykes Award for extraordinary contributions to the fleet (not given every season) was awarded to Jud Judson for his many years of Race Committee Boat service.
Respectfully Submitted,
Geoff Verney, Fleet Captain
Northeast Harbor
NEH 2018 WC Report
The NEH IOD Class concluded another very successful season in 2018.  We had 23 boats participate in the July series which totaled 12 races and, we had 20 boats participate in the August series which will concluded on Saturday August 25th.  The winner of a hard fought July series that had four boats within two points of each other going into the final race was John Henry on Gambler.  The leader in the August series is David Rockefeller Jr. on Caribou.
One of the highlights of the NEH IOD Class and the NEH Fleet this year was the return of the August Cruise.  The Cruise was a great tradition for many decades from the 1960s through 1990 but has been largely inactive for the last ~30 years.  This year's format was two days of racing with a fabulous night's party after the first day race in beautiful Brooklin Maine.  We had four IODs participate in the Cruise.  The winners of both days' races were Danielle, Jeff and Team Lawson visiting from the SF IOD Fleet!
Another highlight of our season has been the return of #4 Silver Spray which has been out of action for several years.  She is skippered by Peter Ill.  We have also added a new boat to the Class – #19 Freyja – captained by Mia Thompson.  Our Class is very fortunate to be expanding and continuing to attract new racers.  Once again, we have seen many younger sailors (several skippering) out on the race course this season.  Our younger sailors hail from the local high school team, the numerous summer sailing schools and colleges from near and far.  This bodes very well for the future health of our Class.  In our sail purchase cycle, we ordered 28 spinnakers from Quantum Sails this winter.
The NEH IOD Class is also about post season racing this year.  We had two boats racing in the World Championships in Sweden.  The first is John Henry and his team from Gambler.  The second boat was David Schoeder and his team from Dakota.  In addition, John Roberts and Team Woodie represented the NEH IOD Class at the IOD North American Championships in Chester, NS.  John and David are returning as representatives to the World Championships 2019 in MHD.  Tom Freemont Smith and Peter Ill will be at the NA's in Nantucket, late June.
Respectfully submitted,
Rick Echard
NEH IOD Class Captain
San Francisco Bay
SF Bay IOD Fleet Report for 2019 AGM
Submitted by Paul Manning – Fleet Captain
We are about to start off our 2019 season racing schedule in San Francisco and we enumerated 8 boats and 16 associate members with the submission of our dues.  Last year we held four Worlds qualifying races and had five boats participate in that series.
As many of you know, most of the owners in the Bay Area would like to continue to sail as we have since the SF Bay IOD Fleet was founded in 1955 as a one design class that limits innovation and allows those most affected by measurement differences (the local fleet) to serve as the final arbiters for any ambiguous measurement issues.
This has not endeared us to the WCA leadership, who enacted open class rules in 2016 to cultivate innovation and concentrate governance and judgement in the WCA Executive.  But, we are so committed to the principles of community and conformity that seeded the International One Design family, that in 2017 we set aside past animosities to work with the WCA Technical Committee in hopes of enacting fleet-specific amendments to the Class Rules that would mimic the governance that historically prevailed.
The Bay Area is ground zero for technical innovation, and as long as the open class rules remain untethered, it is not difficult to imagine our local racing descending in to a competition to build a better mouse trap from our classic sloops. We also understand that the efficiencies of centralized administration come with bureaucratic stagnation and we patiently await the WCA review process to complete its second iteration.
But while we continue to iterate with the WCA Exec, most of the local owners have committed themselves to conformity and self-governance by creating a separate entity that is governed by the principles we hold dear.  Although our governing docs are rooted in the Class Rules, this separate entity is not sanctioned by the IOD WCA and since the IOD WCA is the final arbiter for fleets governed by the IOD Class Rules, we have had to make the separate entity a separate class.
It may seem odd that we have created a separate class to build community and ensure conformity.  We think so too.  But what we find most unsettling is the minority of owners who have chosen innovation over conformity, and governance by members of other fleets over local administration.  There is no doubt that the IOD WCA has more prestige and more perks (like international invitations) than the SFBIOD Class and the 11 boats that have joined the SFBIOD Class have not done so to turn their backs on the community of fleets and friends that belong to the IOD WCA.  We do not believe that the existence of the SFBIOD Class endangers the IOD WCA and just like owners that race in PHRF events as well as local fleet events, our obligations to the SF Fleet of the IOD WCA are not endangered by the events that we join as the SFBIOD Class.
In other news, we have three boats getting significant investment and restoration to be completed this year.  After several years of effort, Rich Pearce has nearly completed a major restoration of IOD #89 (Elizabeth) and should be launching it this summer.   Henry Hernandez, Adam London and Ashley Lyon have decided to update Tom Allen's old boat White Cap (IOD 91). She is getting a new deck this spring and should be back in the water in a few weeks.  And third is IOD 81 (Corona).  Upon getting into the yard for some minor work, some dry rot was discovered in the stem just below the waterline.  Upon investigation it was determined that about 8-10 feet of the stem needed replacement.  A photo shows that boat with the stem work under way.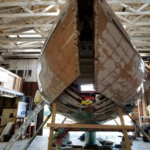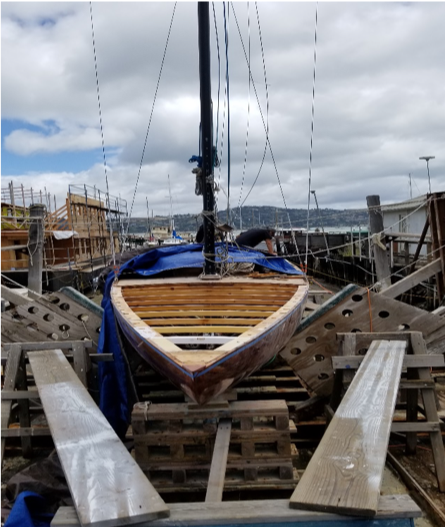 After several years of owning a leaking IOD #85 (Arial) Rob Vellinger has decided to purchase IOD 87 (Hecate) as it leaks a bit less and seems in need of less repairs.  As a result, we will be looking for a new owner or home for Arial.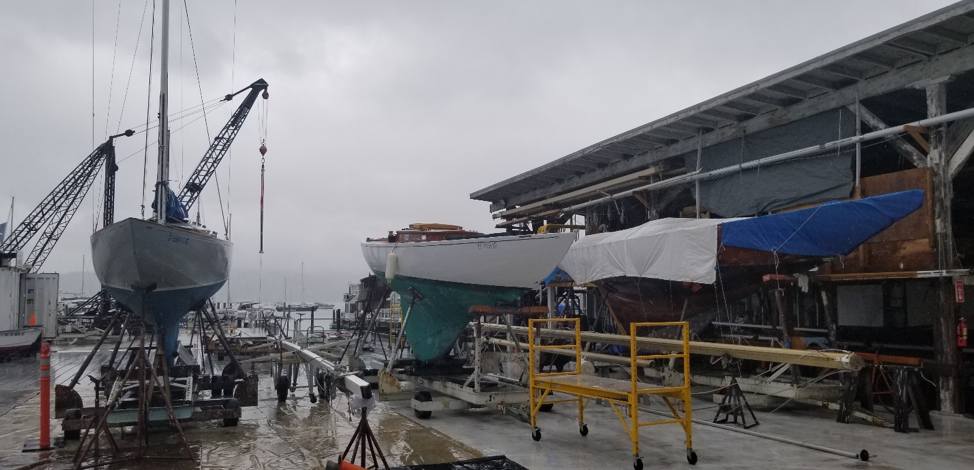 Xarifa (#78)                                                       Corona (#81)                                    Elizabeth (#89)
This next photo shows three IODs being hauled out at Spaulding's boat yard in late March.  The one on the far right is Rich Pearce's IOD 89, Stephen Cosby's IOD 81 in the middle and Paul Manning/Spencer Fulweiler IOD 78 on the left.  All three wooden IODs side by side in numerical sequence from left to right.  At the same yard on a rainy March afternoon in Sausalito.  And White cap was hauled out at a yard about 200 years off to the right.
Smooth sailing ahead and best wishes for a fun time at the Worlds.
St Mawes – Not Available
Sweden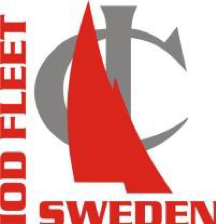 Fleet report 2019
Last year's second half of the season started with us arranging the 2018 World Championship. It was an intensive week with a lot of good memories. Some mistakes were made that we take with us to the future, but all in all it became a good week. We are all grateful for the good words we got after the championship.
The Swedish fleet now consists of 13 boats, there of one with all female crew.
We have scheduled this season with more than 30 races, most of them are qualifying races.
We have one crew participating in the Bermuda race week, and 2 crews that will participate in the 2019 World Championship.
This year we have started with common regulations for the qualifying races about usage of spinnaker in high force winds and also max wind to start the race. This is done to reduce the risk for damaging the boats. And is determined by the skippers before the race starts.
We also have a gathering after the race to discuss any events that may have occurred under the race. This is done to get a better understanding and appliance of the regulations and taking the rounds after misbehaving.
Best regards
Reine Larsson
President IOD Fleet Sweden
Tønsberg – Not Available